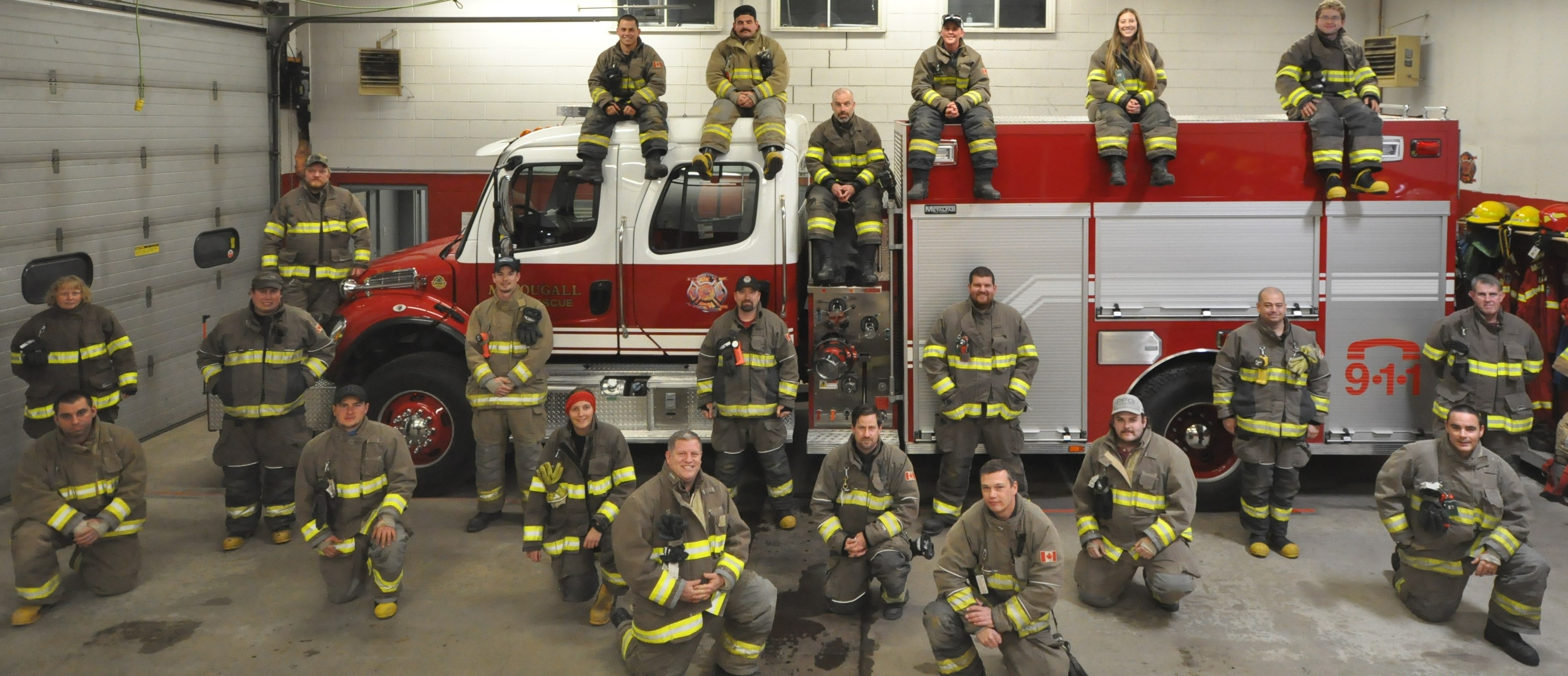 About Our Fire Department
The McDougall Fire Department operates from 2 Fire Stations, with a crew of dedicated Firefighters and Officers. The women and men of our Fire Department are the very best our communities have to offer and are proud to serve you with distinction and dedication. Follow the links at right to learn more about McDougall Fire Department, our capabilities, crews and Fire Fleet. You will find information on Fire Safety and Fire Prevention planning in this section of the website.
History
The McDougall Fire Department has a history dating back to 1974 and the Ferguson Fire Brigade. Initially, the unorganized geographic Township of Ferguson founded a Fire Brigade in 1974. The men and ladies at this time literally built the Fire Department with their own hands. This group cut the trees from the surrounding forest and hauled out the logs out of the bush and to the local saw mill for milling to lumber. The lumber then was used to construct the first Fire Station. This Fire Station is the current McDougall Station #2, located at Peninsula Shores Road and Highway 124. The Ferguson Fire Brigade provided service to the east portion of McDougall Township up until 1982 when the McDougall Fire Department was formed. Then, in 2000, The Township of Ferguson amalgamated with the Township of McDougall to become the Municipality of McDougall and McDougall Fire Department.
Recruitment
If you would like to get involved with our community, learn some skills and drive a fire truck, just visit our
recruitment
page.
Response Capabilities
The McDougall Fire Department responds to annual average of 175 emergency responses. Our team responds to all types of fires, such as structural, wildland and vehicles. We also respond to all rescue calls, such as motor vehicle collisions, off-road, wilderness, ice/water and rope rescue. McDougall Fire Department also is a vital partner in area Tiered Response and therefore responds to most medical emergencies in our communities.
McDougall Fire Department is also a critical responder to other area Municipalities for the purpose of performing motor vehicle and heavy extrication. Our response area extends to Dunchurch in the east, to Parry Sound in the west and Pointe au Baril to the north.
Provincial Statistics
Ontario is protected by 457 Fire Departments. 31 Full Time Departments; 187 Composite (full and volunteer) Fire Departments; 239 Volunteer Departments; staffed by 11,122 full-time, 214 part-time and 19,219 volunteer firefighters.
Providing Correct Civic Addresses in Emergency Situations
In emergency situations it is critical that you provide dispatchers with your correct civic address. For information about how your civic address should be provided in an emergency please read this notice from the office of the Fire Chief.